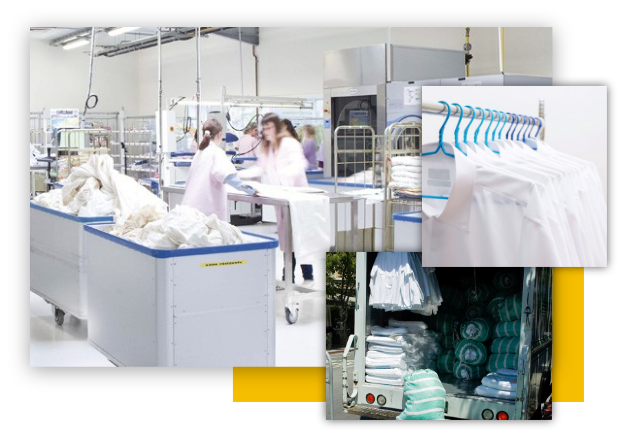 commercial
laundries
Keep your commercial laundry well supplied with all of the textiles you need. For the best quality and the most durability, you want to partner up with A1 American. We stay on the cutting edge of textile technology to offer you the best products for your establishment and your clients. The right towels, bed linens, table linens, and janitorial products can make or break your commercial laundry business. A1 American has all of the products that you need for success. Let us help you please clients with bright, clean, and durable linens of every shape and size. This is the affordable solution for commercial laundries, dry cleaners, janitorial companies, and linen delivery services.

SOLUTION
BASED SELLING

Focused on customer solutions to help improve their work processes and bottom line results

NATIONWIDE
DISTRIBUTION

Nationwide stocking and distribution network with 1-2 day lead times and 500+ linen SKUs

GLOBAL
SUPPLY CHAIN

Integrated manufacturing partners with innovative product development capabilities, and always focused on product quality and integrity

PERSONALIZED
CUSTOMER SERVICE

Personalized and 1-1 customer service with the ability to service all ranges of customer profiles from boutique and global customers. Technology enabled to provide custom online ordering portals.

STRONG
FINANCIAL BACKING

Financially strong to support our customers where needed with well stocked inventory levels nationwide
PRODUCT HIGHLIGHTS
HIGH PERFORMANCE &
AFFORDABLE
MICROFIBER
SHEETING

EXTREME DURABILITY,
LIMITED SHRINKAGE,
STAIN RESISTANT.

Terry
towels

White bright,
long lasting,
absorbent.

Waffle Weave
Fitted Sheets

sized right,
fits snuggly,
folds easily.

Percale
sheeting

Soft feel,
durable,
wide assortment.

Underpads

Best in performance,
absorbency,
and guest comfort.

Bar mops &
Cleaning Towels

Supreme quality
that gets
the job done

napery

Core products for
all markets.

Other luxury
Collections

High end linens,
colored options
and much more.

PPe
essential care

ready to ship,
sanitizer, wipes,
masks & more.