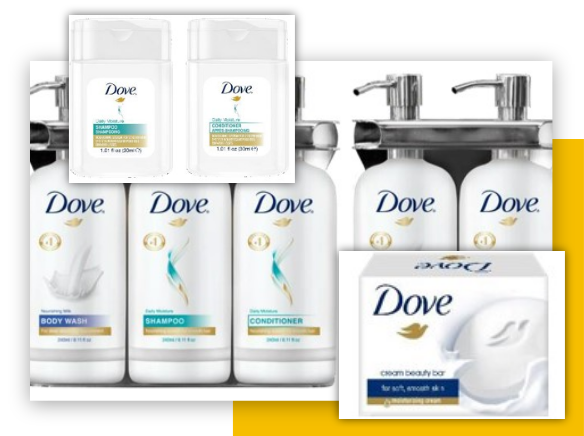 THE BEST POSSIBLE BATH AND SHOWER PRODUCTS
Dove
Brand power

Why Choose
Dove
GUESTs want trusted
brands in these
uncertain times

gLOBAL bRAND lOVE
ACROSS GENDERS & aGE

quality: gLOBAL SOURCING
SCALE & STRICT
QUALITY STANDARD

A unilever brand,
120 years of experience,
400+ global brands

Purpose & sustainability
at our core

Marketing: On-going
global campaigns to
leverage your properties
Fragrances
Cruelty Free & Safe
We only use fragrances that are safe and cruelty-free. Simple. Using ingredients that give you beautiful results and are kind to you couldn't be more important to us.
For Dove, care means providing products that are kind to your body and skin – that's why we work hard to maintain the quality and safety of all Dove products.
We've developed an amazing team of over 550 Research and Development professionals from all corners of the world—and we work with thousands more on different projects.Over the last 10 years alone, our internal team of skin and hair experts have created an incredible 150 patents. It's our continuous commitment to creating superior products, using our leading skin care science, that makes our range so unique.